First up, King Cove, AK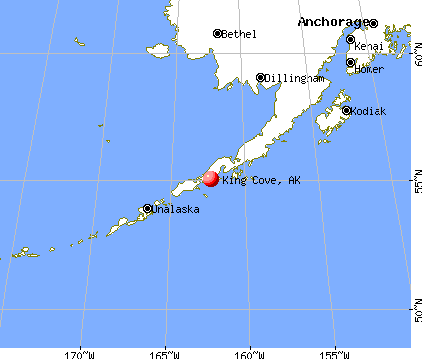 After several push-me-pull-me telephone exchanges with Pen Air about when I can get into King Cove and then into Sand Point and back to Anchorage (never mind all the stops in Cold Bay and False Pass, etc.) given their intermittent flight schedules this time of year, I finally booked passage on Monday (today,) but soon realized that didn't work well with the clinic visits in both places, so I girded up my loins, made yet another call to the airlines and asked them to change the departure date to Tuesday (also "today," unless I finish this by---oh, oops too late. I was going to say midnight, but, well...best laid plans and all that.)
Got that all straightened out and then called the B&Bs that were recommended by the clinics, and the proprietor at Marine View in Sand Point remembered my failed attempt to stay with them before my previous visit was "compromised" by the weather. Very friendly, offered to pick me up at the airport, made me feel welcomed even before I get there. Then I called the Salmon Berry B&B in King Cove where I am headed first. On vacation until Tues April 3, says the answering machine. That's cutting it quite close and even though I know I should have more than one iffy plan up my sleeve, I kept procrastinating calling the other lodging options until this evening after 5 PM, when instead of calling a different place even for just the one night, I called the vacationing B&B owners and their house-sitter answered.
He explained that Marty, who runs the place, said before she left that she would not be ready for guests until next week. I was fine with that answer, except somewhere in my bones I knew I would be staying at that particular B&B on this particular trip. When I asked the house-sitter if he had another recommendation, he said he would try to get a hold of Marty who only sometimes answered her phone when he called and give her my number in case there were a possibility I could indeed stay there for at least part of my visit.
She called me within 10 minutes, we spoke like old friends and she told me her house-sitter reported that the place was clean, there were clean sheets on all the beds and they would be ready to have me stay there. When I asked her advice on getting from the airport to her place, she said she would be on the same flight I was taking.
"Out of Anchorage? Really? That's going to be funny both of us going the same place and we won't even recognize each other until we get there!"
She said, wisely, and somewhat cryptically, as a lot of people do when I say things only an outsider would say, "Oh, I will recognize you! And my house-sitter is picking me up, so we can give you a ride, too."
Sure enough, several hours later, I was sitting outside the Pen Air gate with a handful of other people, and there were also travelers inside the Pen Air gate area, and I suddenly heard a woman's voice say, "That must be Penny right there!"
Who's so casually speaking my name in the airport? A stranger I've never met who warned me she would recognize me? Yes, it was Marty, walking up the corridor with her husband, but you already knew that, didn't you?
What you didn't know, however, is how the rest of the trip plays out and that is for another post when I can get pictures uploaded, because you have to see it to believe it, or at least to be impressed by it. I've been here a few hours and am already nestled in my Bed & Breakfast bed, looking out over the sprawling little city of 952 human residents. (I'm not sure if that includes seasonal workers at the Peter Pan Cannery, though. I traded places with a handful of them at the "airport," which term I use veerrry loosely. They were just finishing up cod season, I think.)